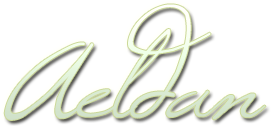 Fantasy name generators & more!
A little introduction to this site:
Since I always had trouble creating pronounceable names that did not sound obviously fake or adapted from existing words or names, I've decided to try and create name generators. Aeldan is an attempt at using randomness to generate quality names that are simple enough to be remembered and written over and over in your own stories.
Use the links above to navigate. If you're just looking for a quick list of random names, you might want to start with the Fantasy name generator.